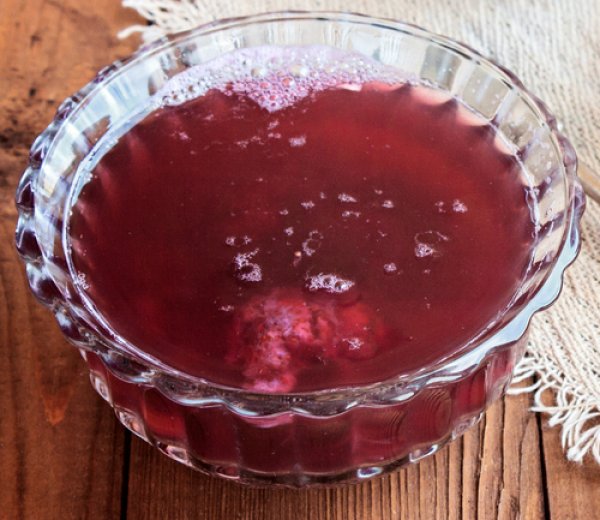 A thin pudding or dessert soup, kissel is common throughout Eastern Europe. It can even be served as a sweet drink. The thickness of the kissel comes from the inclusion of cornstarch, arrowroot powder, or—as in the recipe that follows—potato starch, and the thickness is adjusted depending on how kissel is to be consumed. The thinnest kissel is often drunk straight from the serving dish. Somewhat thicker kissel may be used as a topping or syrup for other desserts or dishes. The thickest variety of kissel is eaten as a standalone dessert. Recipe Servings: Serves 5
Prep Time 5 minutes
+ 30 minutes resting
Cook Time 30 minutes
Total Time 1 hour 5 minutes
Vegetarian
Vegan
Gluten Free
Dairy Free
Kosher
Halal
Ingredients
2 cups (480 ml) cranberries
1 1/2 qt (1.5 l) water
1 1/4 cup (300 ml) sugar
1/2 cup (120 ml) potato starch
1/2 cup (120 ml) cold water
Directions
Bring water to boil in a non-reactive saucepan, add berries and cook about 5 minutes, until softened.
Drain, reserving the liquid, and press fruit through a sieve. Return to saucepan.
Add sugar and simmer 5 minutes.
Separately mix potato starch with cold water.
Remove pan from the heat and pour starch mixture slowly into the cranberry liquid, whisking constantly to avoid lumps.
Return the pan to burner over very low heat. Bring just to the simmering point, but do not boil.
Remove from heat and pour into small bowls.
Sprinkle some sugar on top to keep a skin from forming.
Chill before serving.