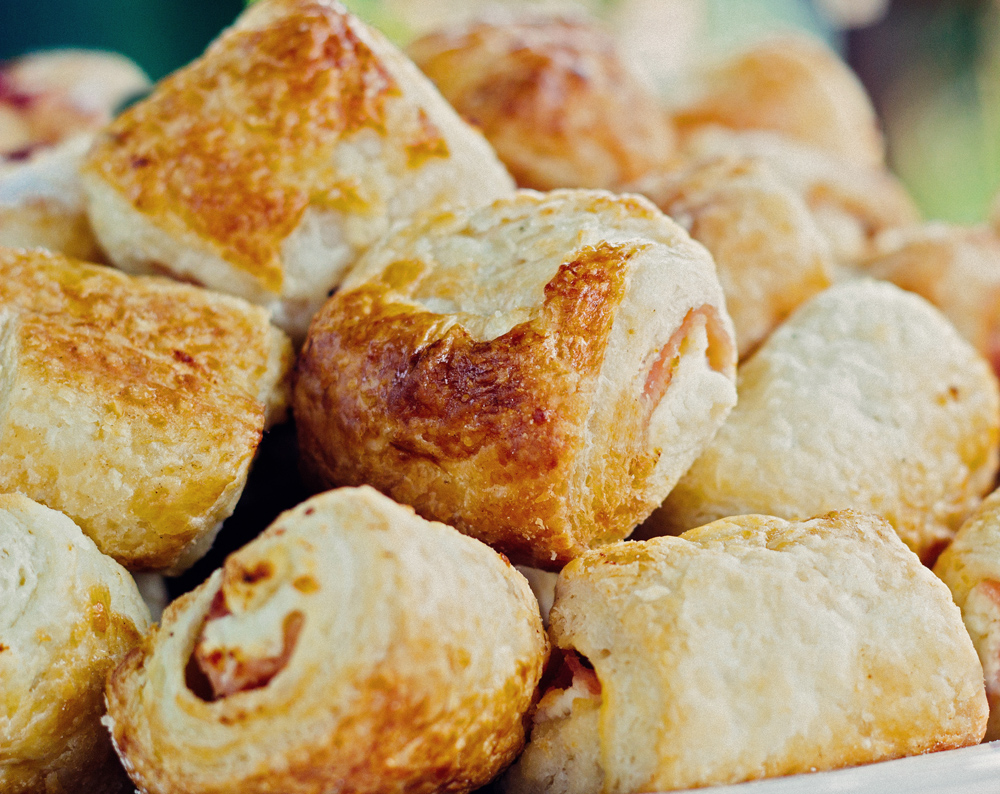 These baked rolls combine the texture of fresh, yeasty bread dough with the savory taste of thick-cut ham for a delicious, filling treat. They are best eaten warm and crisp from the oven and can be topped by a wide variety of salty, creamy, or spicy sauces for additional flavors. For the best taste and texture, use high-quality cuts of meat. Recipe Servings: Serves 8 to 12
Prep Time 20 minutes
+ 2 hours resting
Cook Time 40 minutes
Total Time 3 hours
Vegetarian
Vegan
Gluten Free
Dairy Free
Kosher
Halal
Ingredients
Dough:
1/3 cup (80 ml) milk
2 1/2 Tbsp (45 g) unsalted butter
1/2 package active dry yeast
3/4 Tbsp (9 g) sugar
1 large egg
1 large egg yolk, well beaten
1/8 cup (30 ml) lukewarm water
1/3 tsp (1.5 g) salt
2 cups (240 g) flour
Rolls:
24 slices of ham, each 3 in (7.6 cm) square
1/4 cup (22 g) Parmesan cheese, freshly grated
4 Tbsp (60 g) unsalted butter, melted
2 large egg yolks, beat with 1 tsp (5 ml) milk
Directions
Dough:
In a saucepan, combine milk and butter and bring to a boil, then remove from heat and allow to cool.
In a bowl, combine the yeast, sugar, and water. Stir until the mixture becomes foamy, for about 5 minutes.
Add the milk mixture, beaten eggs, and salt to the bowl and mix well with a wooden spoon.
Stir in the flour, 1 cup (120 g) at a time, stirring thoroughly after each. Transfer the dough to a flour-covered surface and knead it until it has become smooth and elastic. Knead the dough for about 10 minutes, adding flour as necessary to prevent sticking.
Place the dough in a buttered bowl and dot it with additional butter.
Cover the dough with a cotton cloth and let it rise in a warm place for about 1–2 hours until it has about doubled in size. Then, punch it down and knead the dough a second time.
Rolls:
Roll out the dough on a floured surface. With a sharp knife, cut the dough into 24-3 inch (7.6 cm) squares.
Assemble the rolls by placing one slice of ham on each dough square, followed by about 1/2 teaspoon (2.5g) grated Parmesan cheese. Drizzle each stack with butter before rolling each into a narrow cylindrical shape.
Preheat the oven to 350°F (176°C). Grease two large baking sheets and arrange the rolls on them, spaced well apart. Brush the rolls with the egg and milk mixture and allow them to set for about 20 minutes. Bake for 30–40 minutes until golden brown.